About DWC Today
Building a launch pad for the future of aviation
The foresight and ambition of Dubai is reflected in the Dubai South aerotropolis megaproject, which will host Al Maktoum International (DWC), the world's future biggest airport and cargo hub. The development is highly strategic, being central to Dubai and close to the seaports.
In addition to sea and air links, DWC will be easily accessible on the ground via the trans-emirate highway and the future Etihad Rail. Three main roads will provide access to the development, with Sheikh Mohammed bin Zayed road on the west, Emirates Road on the east and the Sheikh Zayed bin Hamdan Road running through the centre of the aerotropolis.
DWC will be at the centre of Dubai South development, surrounded by six dedicated areas, comprising the EXPO 2020 site and districts dedicated to residential, aviation, logistics, business, leisure and commercial spaces. DAEP is responsible for the development of this aerotropolis, starting with the airport design, master-planning and construction of infrastructure and airways to the execution and installation of smart airport systems.
Construction began in 2006, when DAEP completed the first runway at the airport. A control tower and a passenger terminal building were also constructed, taking the airport's capacity to 7 million passengers a year.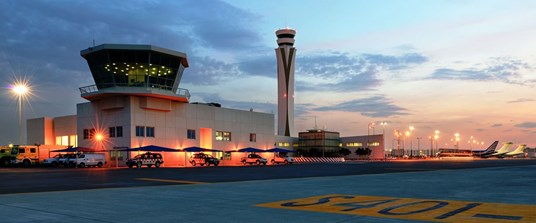 DAEP continues design and planning for DWC, ranging from consultation for optimal vehicle movement to the installation of intelligent airport systems that will allow passengers to check-in from home and use curbside baggage drops at autonomously mobile carts.
With the support and leadership of the Dubai Government, DAEP is confident in realising Dubai's vision of becoming the world's leading aviation hub, as well as the world's first multimodal freight transportation hub, connecting air, sea and land.